On

Command is a comprehensive support program designed to maximize and support your organization's technology systems.

We offer custom multi-year maintenance agreements or service plans that mitigate the risk of downtime so you can have the peace of mind you need to focus on achieving your business goals.
A standard warranty gives you remote help desk support, but not much else. With

On

Command, you get access to:

Certification & Testing

Comprehensive Checklist Reports

System Training & Reorientation

Guaranteed Response Times

Semi-Annual Business Review

Equipment Coverage

Priority in Support Request Queue

Software & Firmware Upgrades
Plus

unlimited

help desk support coverage

Managed endpoint detection and response

Enhanced email security

Managed DNS

DNS filtering

Desktop support
Service is at the core of what we do at Commercial Technology
It's the value that drives us. We designed the OnCommand program to embody this commitment and empower the organizations we serve to maximize their technology.
Focus on your business
Save time and avoid waste
Optimize for efficiency
Utilize your technology
Choose the support option that's right for you
Our flexible subscription service allows you to choose the option that works best for your budget, your tech stack, and your team. Whatever you choose, our experts will be there to support, train, troubleshoot, and keep your systems up to date.
And with
On

Command Plus Enhancement Options, you can add:
On-SSA Our licensing and subscription plans keep your technology up-to-date
On-TIME Meet your emergency requirements with enhanced response times
On-VIEW Ensure your devices are always operational with remote monitoring
On-SITE Augment your staff by scheduling support for events
On-DESK Monitor and maintain your server's health with desktop support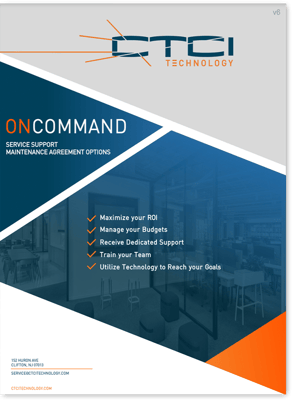 Ready to Get Started?
Schedule a consultation with a member of our team to discuss how we can support you with our OnCommand Service Support & Maintenance Options.